CAR CRASH:
Immediately after a car crash, it's essential to follow a series of crucial steps to ensure the safety of all involved and to fulfill legal and ethical responsibilities. Here's what you must do:
Ensure Safety:

First and foremost, check yourself and your passengers for injuries. If anyone is hurt, call 911 or the local emergency number immediately.
If it's safe to do so, move your vehicle to the side of the road or a safer location to avoid further accidents or traffic disruptions.

Check on Others:

After ensuring your safety, check on the occupants of the other vehicle(s) involved in the crash. Offer assistance if necessary but be cautious about moving injured individuals unless they are in immediate danger (e.g., from a fire).

Call Law Enforcement:

Contact the police or the relevant law enforcement agency to report the accident. Provide them with accurate details about the location, the number of vehicles involved, and any injuries.

Exchange Information:

Exchange contact and insurance information with the other driver(s) involved. Gather names, phone numbers, addresses, driver's license numbers, and insurance details.
Note the make, model, and license plate number of all vehicles involved.

Document the Scene:

If it's safe, take photos of the accident scene, including vehicle damage, license plates, road conditions, and any relevant road signs or traffic signals.
Make notes of the time, date, and weather conditions.

Avoid Blame:

Refrain from admitting fault or blaming the other party, as this may affect insurance claims and legal proceedings.

Notify Your Insurance Company:

Contact your insurance company as soon as possible to report the accident and start the claims process. Follow their guidance and provide accurate information.

Seek Medical Attention:

Even if you don't appear to be injured immediately, it's a good idea to seek medical attention. Some injuries may not manifest symptoms until later.

Cooperate with Authorities:

Comply with any instructions from law enforcement officers at the scene.
File an accident report if required by law.

Preserve Evidence:

Keep all documents related to the accident, including police reports, medical records, repair estimates, and correspondence with insurance companies.

Contact Legal Counsel:

If the accident was severe or if there are disputes regarding liability, you may want to consult with an attorney who specializes in personal injury or car accident cases.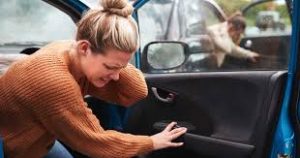 Remember that safety is the top priority after a car crash. Taking these steps can help protect your well-being, ensure the appropriate legal procedures are followed,car accident, and facilitate the insurance claims process.